Membership is available to individuals that live or work in Nacogdoches, Shelby, San Augustine or Sabine Counties. Becoming a member at Doches Credit Union is easy , and you'll find that you're more than just an account holder here — you're a member-owner! Think about it: Doches Credit Union truly is YOUR Credit Union.
Counties We Serve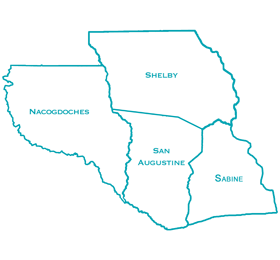 Our History
Doches Credit Union is Nacogdoches' only hometown not-for-profit financial cooperative that provides a full range of financial products and services to Nacogdoches, Shelby, San Augustine and Sabine Counties.
The credit union was chartered on November 7th, 1951 with an original field of membership comprised of employees from Southwestern Bell and the Lufkin Conroe Telephone Exchange.
In 1999, the credit union obtained a community charter which allowed services to be offered to any person that lived or worked in the Nacogdoches area as well as their families.
In 2005, Doches Credit Union opened its first full service branch in Center, Texas.
In 2011, its second full service branch opened across from Pilgrim's Pride in Nacogdoches.
In 2013, Doches Credit Union completed a merger with Toledo Bend Teacher Credit Union, expanding the credit union's reach into Sabine County.
Our Mission, Vision and Philosophy
Doches Credit Union's overall mission is to create a quality, life-long financial relationship with our members by providing valuable financial products and services that meet their financial needs.
Our vision is to advocate the credit union philosophy of "People Helping People" by providing exceptional financial services to all qualified members within our field of membership.
DCU's philosophy begins and ends with understanding and meeting member needs. Member-owners are at the forefront of all decision made. As a result, DCU offers a full array of financial services including low-rate consumer loans , high-yield savings programs , systematic investments, free checking and debit options , and free online services .
For more than 60 years, Doches Credit Union has been an important contributor to the local economy. We remain dedicated to serving the communities in which we operate.